Search Engine Optimization or SEO is becoming more and more important for blogs, for businesses, with more people turning to the internet for information.
What is SEO?
In simpler terms, Search Engine Optimization is a combination of elements in one's website and off it to make it more easily found and discovered in search engines, especially in Google, but also for Bing or Yahoo.
The Importance of SEO
With billions of people connected to the internet, being highly visible in search engines is the way to crush the competition. Your business gets in front of these customers ahead of your competitors if your website has been optimized.

The 2 Techniques: On Page and Off Page Optimization
SEO is actually composed of 2 main parts: On Page and Off Page Optimization. So what is the difference between the two?
On Page SEO
On Page Optimization is composed of elements that the website developer or webmaster can control or tweak. There are many elements to it but because this is an introduction to getting started online, this is a very simplified explanation, just to get your feet wet on SEO.
The following are just a few of the most commonly used elements of On Page SEO:
Keyword Research
When we search for something in Google for example, the first thing we do is type search terms, right?
So it is thus very important that when we are writing articles, setting the meta titles and meta descriptions of every post, page or the whole website, we know the keywords to use.
We should use the search terms that are high in search volume and popular for our niche, yet low in competition. By low in competition, it means not too many websites are using that particular search term or being indexed for that keyphrase.
There are Keyword Tools, both free and paid to find these high search-volume, low-competition keywords. One of the most popular paid tools is Long Tail Pro. It is a very user-friendly tool that shows information such as monthly search volume and competitiveness of a particular keyword (measured between 0-100, with 100 being the most difficult to rank).
In this particular screenshot, it shows the easier keywords in green, such as "best darts in the world", which has a keyword competitiveness of 27 (green – low competitiveness), plus a monthly search volume of 880, as compared to "best dart board", which has a competitiveness of 38 (yellow – moderately difficult) and a monthly search volume of only 10.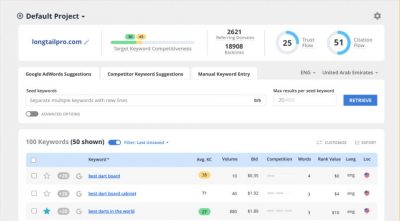 For all the value you can get from Long Tail Pro, it is more than worth the price. Check out Long Tail Pro here.
Content
After knowing what keywords to use, it helps to know how to write content – using these keywords – in a manner that is friendly to search engines. Some of the elements in good content writing include using the properly researched keywords in the article, in the subheadings, images with embedded keywords.
Google loves valuable content, so make sure you write content that offers great information, but at the same time, is easy on the eyes to read. Click this link for SEO Writing.
Page Loading Speed
One should make sure that the loading of one's web pages is fast, lest the website visitor decides to just exit for a slow loading page.
Having images and videos help engage a customer, but to make sure it does not drag down the page loading, compress images and videos before loading them to your website. The suggested tools to use here are:
compresspng.com
compressjpeg.com
shrinkpdf.com
handbrake.fr for compressing videos.
I also recommend two plugins to improve page loading speed: (make sure it is compatible with your version of course)
Fast Velocity Minify – this will reduce the number of HTTP requests by merging JS and CSS files into groups
WP Fastest Cache – this will create cached pages to display to your users instead of running PHP and calls on your database every time the page loads.
Mobile Friendliness
Unless your website is hardcoded (coded from scratch), most CMS or website builders are already mobile-friendly. Mobile-friendliness of a website has been a Google ranking factor since April 2015.
Off-Page Optimization
Off Page Optimization is comprised of factors that measure the popularity of a website. After all, Google wants to give importance to the needs of the searching public, and give quality search results by way of the most popular websites.
That being said, the two ways that Google measures a website's popularity are: (1) Website Traffic (2) Backlinks.
Website Traffic
The higher the number of unique visitors your website has, and the longer they stay on your website, the higher you will rank in Google.
Ways to Drive Traffic To Your Website
1. Content Marketing – using the right keywords and proper SEO writing
2. Search Engine Marketing – When you advertise in Google with Google Adwords using a Cost per click marketing in Google.
3. Social Media Marketing – Ads in Fb, Instagram, Pinterest, Twitter; Influencer Marketing ( for example, pay an influencer with 50k-300k followers for 12-hour shout outs)
4. Forum Marketing – Participating in forums e.g. Reddit, Quora
5. Guest Posting – Writing for websites that accept guest posts
Bounce Rate
It is not enough that you have a lot of website visitors. Google also measures the length of stay of a visitor on your website. This is measured as a bounce rate between 0-100%.
Why so?
When after typing a search term and a searcher finds your website, but exits soon after, to Google it is a bad sign. It means that finding your website for the searcher's query was a wrong result.
The lower the bounce rate, the better. Lower than 45% is great, 45-55% is average, and anything higher than 56% is a bad bounce rate.
How do you reduce bounce rate? Here are some suggestions:
A slow loading site will make a website visitor leave. Thus, make sure your website has a fast loading speed, to begin with. You can do this by compressing your images, PDFs, and videos. Check your website speed with https://tools.pingdom.com. You can also use content delivery networks (CDN) such as CloudFlare to reduce travel time from server to user.
Write your articles in a way that is easy on the eyes and interesting. Check out our previous article on SEO-Writing.
Have engaging content. Aside from great information, have visuals like images and videos.
So how do you see website traffic, bounce rate, and other valuable data? the answer. Google Analytics.
Google Analytics
Once you have a website, get a Google Analytics account. Add your website in your account, and Google will give you a code or script to add to your website's header to prove ownership of your submitted domain. If you are using WordPress, there are plugins available to do this.
Once your website has been verified, you will now get valuable information such as website traffic, bounce rate, your website's top pages, demographics, geolocation of your visitors, error pages, and more. It will look something like this: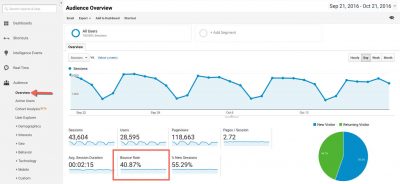 Backlinks
Aside from website traffic, backlinks are another way Google measures your website's popularity.
What are backlinks? This is when other websites mention your website as a link. Let us say a food blogger made a review of a restaurant and mentions the restaurant's domain name in his review with a link to the restaurant's site. The food blogger just gave the restaurant's domain a backlink.
To Google, a backlink is a vote of trust, a vote of confidence. So the more websites linking back to you, the higher you will rank in Google.
Important Notes About Backlinks
Your backlink must come from websites related to your niche;
The higher the Domain Authority [DA] of the website linking back to you, the better quality it is as a backlink. Domain Authority is a measure from 0-100, with 100, of course, being the highest domain authority. You can check a domain's DA with any Domain Authority checkers online.
Google prefers a slow, natural buildup of backlinks, hence the term "link velocity."
For new sites, keep the link building between 1-3 links per week.
Sites with 50 daily visitors can safely gain 5-8 links a week.
Sites with 100 daily visitors or more can safely gain as many backlinks and would not be suspicious to Google as long as you keep the White Hat Techniques as mentioned below.
Ways to Acquire Backlinks
There are right and wrong ways to acquire backlinks (whitehat vs blackhat)
White Hat Techniques
1. Writing valuable content that others would like to link to
2. Guest Posting – write posts on related websites and you can put your link in the article to your website (contextual link).
When doing guest posting, it helps to know you are guest posting on a site that has a high Domain Authority (DA). Check the site first before agreeing to guest post. There are many free domain authority checkers online.
3. Broken link technique – spy on your competitors for broken links (those Error 404s or "Nothing Found"), reach out to the website owner that has a broken link to your competitors and offer your content to replace his broken link.
You can find your competitor's broken links through SEO tools such as https://ahrefs.com, https://semrush.com. The top choice among SEO tools is SEMRush.
4. Skyscraper technique – offer a better content. Let us say you saw a competitor's article, 10 Ways to Lose Weight Fast. Write a more comprehensive article, 20 Ways To Lose Weight Fast, and in a nice way reach out to the website owner and let him know of a great content you wrote that he can link back to.
5. Influencer write-up – Feature an influencer of your related niche and contact the influencer to inform him/her of your feature write up, in the hope that he will put a link in his website to your feature write up about him.
Grey Hat
(not necessarily illegal) e.g. Link exchange. When website owners of related niches agree to link to each other.
Black Hat (illegal)
Private Blog Networks – buying expired or expiring domains which has existing backlinks and traffic and then posting new content which links back to your main website
Link buying – There are sites that offer links for sale. Not advisable!
Final Note
On Page and Off Page Optimization do not have the same weight as far as ranking is concerned. Google gives more weight to content. After all, Google is all about being able to serve the best answers to search queries.
Getting good with website traffic and backlinks will not be possible without good On-Page Optimization, to begin with. So get the basics of On-Page right and getting good at Off-Page will be easier.
Another thing to remember is that SEO on your website is a consistent, ongoing process of monitoring and auditing your site.
Ongoing SEO analysis is important for many reasons, including but not limited to:
-new trending topics
-competitors' new posts, or new competitors
updating your blog posts
-backlinking opportunities might surface
errors that surface in your site
and many more.
The most popular tool of choice for a good SEO audit is SEMRush. It will discover all errors, warnings, and overall website health.