If you have a business website or an eCommerce site that you want to rank in multiple countries, wouldn't it be great to do that without having a different website for every language or country or even hiring a global SEO company?
Yes, you can definitely do so! It is like having international SEO services. Just one solution will suddenly give you power over competition and be able to target locations worldwide. How?
Answer: Google Translate!
Yes with just Google Translate you can have a website with multilingual versions and rank in areas that other competitors are not really focusing on. That is a HUGE advantage.
How Google Translate is Your Ally for a Global SEO Strategy
1. Google Translate Business or Enterprise translates even your URL.
Imagine you are in Canada for example, where 20% speak French, next to English which is spoken by 50% of the population. If you have a purely English site, then you are missing out on the 7 million customers who speak French.
The Google Translate Business or Enterprise can translate even your URLs. Hence you increase your chances of also ranking for international locations because your site has country URL codes. Here is an example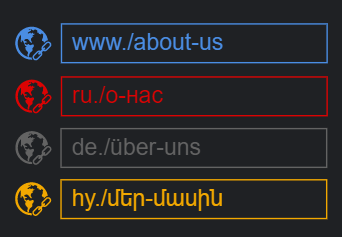 These are called hreflang tags or language meta tags which show search engines the languages your website is set up to handle. In other words, these hreflang tags are bits of code that indicate in which language(s) your webpages are available. This is a global SEO advantage that will greatly increase your reach.
For example:
/en-us/
/es-es/
/es-mx/
2, Its Custom to Enterprise versions provide neural translation for a better user experience.
Google Translate has a free version but this has a machine translation, which can give an awkward translation at times. This can result in a bad user experience. With the Business or Enterprise version, it has a neural translation that reads like a human translation.
3. Google Translate's Paid Plans all use a Translation Delivery Network.
The paid versions of Google Translate host the translated versions of your website on their cloud network under language-specific international domains. In that case, every language will have a separate domain and be indexed in foreign search engines,
This will help you increase international traffic. The translation is thus automatic on the browser of the visitor.
Unfortunately, this is not the same for the free version – the URL does not change and the translations are not stored. The reader would have to manually choose the language from the Google Translate widget.
4. Country-specific hosting increases your chances of ranking.
Imagine having a URL that also has a country-specific top-level domain or TLD. For example, https://domain.de or https://domain.ru. This further increases your chances of dominating international locations that your competitors are missing out on
5. There is an option for a centralized translation cache.
When new content is detected, Google Translate's paid versions will translate it and store it in their translation cache. As a result, It allows faster loading of the translated pages. The quality of the translations cache will improve over time by using crowd-sourced and professional translations.
The Verdict: Google Translate Business or Enterprise for Global SEO
You do not need to have a different website written out for every language. That is costly and difficult to manage! Why do so when you can have several versions of your website without the effort and the expense?
If you want to really maximize your business's international potential, have multiple language versions that are search engine-friendly. The Business and Enterprise versions have the URL translation, though only the Enterprise version has the country-specific TLD ( .ru or .de or .es for example). 
This will let you dominate international locations that most competitors are ignoring.  Read more about Google Translate Business or Enterprise.