What is dropshipping?
Dropshipping is a good online business model to start with.  There are many dropshippers who have built million-dollar businesses through the years. This is the process simplified:
You have an eCommerce website that displays other drop shipping supplier's products with a markup already from their price.
When a website visitor orders through your website,  you, in turn, place the order with the supplier, complete with your customer's details, keeping the difference between what the website visitor paid and what you will pay the supplier.  For example,  on my website, I displayed a product from a dropship supplier that costs $2.00. On my website, I will display it as $6. When a website visitor orders through my website, I will then place the order with the supplier and I keep the $4 difference.  Instant profit. 
The supplier takes care of the shipping of the item. You don't need to keep inventory, handle products, nor shipping.
Clearly, dropshipping is a low-cost, low-risk eBusiness. You do not need to buy or keep a huge inventory. You only buy the product when the website visitor has already paid you.
This particular business model has a very easy learning curve. This is very important because one of the reasons eBusiness newbies fail is due to information overload that a newbie finds overwhelming and he/she is unable to take action.
What you need to start a drop shipping business:
PC plus a good internet connection
2. An eCommerce website (hence you need a domain and a web hosting service) that has dropshipping capability. (If you are totally new to website building, don't worry, most companies offering a dropshipping business offer website set up for a reasonable fee).
A payment gateway – a way to accept online payments. The simplest way is to open a Paypal account. Paypal accepts both Paypal AND credit cards. Shopify though has a built-in payment gateway so it is indeed an easy set-up with Shopify.
How much will it cost you all in all? It depends on the drop shipping providers you choose, which will be enumerated below.
Some of the popular drop shipping service providers
Alidropship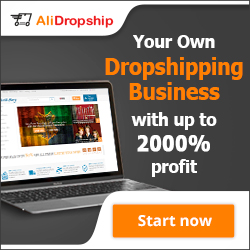 When you sign up for Alidropship, you just need to buy a plugin one-time for $89 (one plugin license per website) plus their recommended web hosting, which starts at $48/year, including an SSL license (an SSL license gives added security to the site, a must for eCommerce stores). Normally an SSL license alone is at least $20 and higher, but with their web hosting, it is free.
The Alidropship plugin lets you import products from Aliexpress (which is a big directory of drop ship suppliers) directly into your website, then you can edit the product specifics before making it appear on your store.
Alidropship themes are WordPress-based, so if you know your way around WP, especially WooCommerce, then you can set up your online store easily. Their 3 Alidropship themes plus 2 WooCommerce themes are all WordPress. If you want to set up your WordPress website yourself, refer to our WordPress post.
Not to worry if you have absolutely no experience with WP. You can opt to order a custom website, starting at $299. If you want to see the themes, a demo of Alidropship stores and the success stories click here to know more about Alidropship.
If you want a detailed tutorial, here is a step by step guide for Alidropship,
Shopify + Dsers
Shopify is one of the most popular platforms for drop shipping because the store is relatively easy to set up even for newbies.
Once you have signed up with Shopify for your eCommerce store, you will use an app called Dsers to easily import products from suppliers directly into your Shopify store and once a customer places an order, you place the order with the supplier, who, in turn, ships directly to your customers.
The Dsers marketplace is where you can find a wide variety of products from suppliers who provide fully automated order fulfillment services.
You can also opt to apply for an account with Dsers first and once you sign in to your account, there is an easy set up there for your Shopify store. Dsers has a free planup to three stores and is perfect with Shopify's 30-day free trial as well. Take a look at this:
Shopify, however, is not just limited to products from Dsers. You can also integrate other dropship products from other suppliers.
Your Shopify store has a built-in payment gateway as well; should there be a refund, it just takes a click of a button and the customer gets a refund in 3 days.
They also provide awesome customer support so running your store is worry-free. Their plan starts with as low as $13 a month for the Basic Package. You can have a 30-day free trial, set up your store, and pick a plan later. To know how to start drop shipping via Shopify, click here.
We will also post a separate article to know more about Shopify.
SaleSource
SaleSource is a great way to get products to dropship because it takes the guesswork out of what products are saleable. It also lets you spy on who is the best supplier for a product, even spy on your competitors! If you really want to succeed in product choices, click here to get Salesource.
Which One To Choose?
There is no good or bad choice here. You can make money online with any of these – but one thing is certain – whichever you decide to do, you need to consistently do marketing. That includes social media marketing, SEO, content marketing/blogging, email marketing, and a few more marketing ideas.
You can have a purely online store, but without valuable content, without email marketing, your best bet is to consistently do advertising every day and hopefully you gain traffic and backlinks enough to make you rank in search engines.
Then again, the chances of you getting backlinks and traffic are higher when you have articles that offer great information. Information that makes people want to cite your articles on their own websites or share them around in social media for traffic. As I mentioned before, a backlink is when other websites mention your website. How can one do that when they have no interesting content worth citing in other websites?
Want Success Tips?
Want to get tips on making dropshipping succeed? I am not going to spill all the secrets here for the world to see. Sign up for our newsletter to get success tips, inspirational stories. and lightning offers!