An Introduction to Dropshipping
Dropshipping is one of the ways to have a business with low startup cost and low risk as well, and Alidropship is one of the most popular means to do it.  Please refer to our post about dropshipping for an introduction. Basically, these are the simple steps defined:
You will find dropshipping suppliers whose products you want to sell with a markup. You then display these products on your eCommerce website.
When someone visits your website and orders a product, you, in turn, place the order with the dropshipping supplier, keeping the difference between what your customer paid you and what you will pay the supplier for your order.
The supplier then takes care of the product packaging and shipping. These suppliers already know you are dropshipping and they will not send any label or identifying packaging that the product came from them.
Simple and low risk right? So are you ready to get started? Here is how to get started with Alidropship.
What is Alidropship?
Alidropship is a company that will provide you with the tools to get you started on the dropshipping business.
Their main dropshipping products are 2 plugins, Alidropship and Alidropship Woo (which works with WordPress's WooCommerce site). These plugins are to be installed into your WordPress site. These plugins work with their specific free WordPress themes which you will also install.
To keep the explanation simple, what the plugin mainly does are
1) import products from the suppliers of AliExpress into your website,
2) Set automatic price formulas for these products,
3) Lets you place the orders automatically from your website's backend to the supplier. It also automatically updates the product's status (price changes, availability).
Not familiar with WordPress website building? Not a problem – Alidropship also offers custom website service and can build your website according to your specific instructions which starts at $299.
Getting Started on Dropshipping with Alidropship
To get started with dropshipping via Alidropship, here are what you need:
A Payment Gateway and A Credit Card
You need a means to accept online payments (credit cards, debit cards, and Paypal). To be able to do that, the two most popular solutions are by having a Paypal PREMIERE account, or Stripe. Stripe however, is limited compared to Paypal. Hence have a Paypal account. Paypal also accepts credit cards and debit cards so once you have a Paypal account, you also can accept credit and debit card payments.
When purchasing your customer's order from AliExpress, some suppliers do not accept Paypal, so you also need a credit card to purchase from AliExpress.
AliExpress Account
Go to Aliexpress.com and apply for an account because you can only buy from Aliexpress when you have an account with them (no guest ordering allowed).
A Niche or Specific Market
The single biggest mistake when starting out with dropshipping is that one gets too overwhelmed and excited that one tends to put a general store and sell everything possible.  If you have a general store, you will not get an audience of passionate buyers, your targetting is too broad, and hence, you will be spreading yourself too thin. You will hardly get dedicated followers.
Besides, there are already big names with general stores like Amazon, Ebay, etc, and it will be extremely difficult to compete with those. If you have a specific niche, you get a passionate customer base who can remain loyal to you and have more targetted advertising and all.
Research Your Niche
Here are a few ways to research good niches to begin your business:
Google Trends (FREE)
Google trends will show you the interest of the public according to the products you are planning to sell. For example, shall you sell, bags? Wallets? Jewelry? Simply go to Google Trends, type a term on the Explore field, and add these search terms, just like so: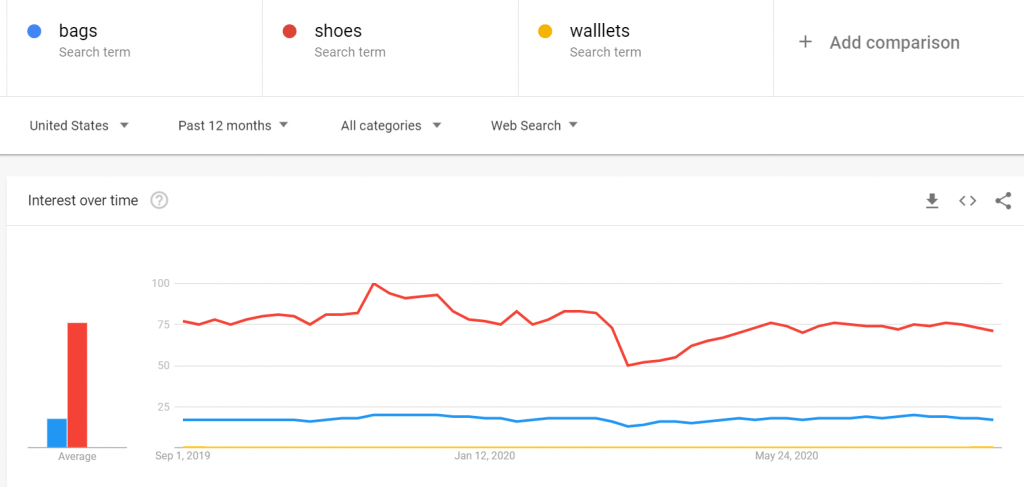 Google Trends will also show interest by region:


and related queries (for e.g. bags: hand bags, plastic bags, etc)

Other good sources of niche research will be Trendosaur and Terapeak, though they are paid services but would be worth it in the long run.
Unicorn Smasher (free)
Unicorn Smasher is a free application that actually gives the performance of products on Amazon, but since many products of Amazon also come from Alibaba (AliExpress's wholesale counterpart), chances are you can see Amazon products that are also in AliExpress and see what products from Alibaba/Aliexpress are selling well.
It also helps to remember that when dropshipping, US remains to be the biggest market potential, and since Amazon's biggest locale is the US, any information that Unicorn Smasher can give will be useful.
To use Unicorn Smasher, install it from Chrome Webstore. Once installed, you will see it on the right end of your browser bar as shown below.  Next, go to Amazon, type a product category for e.g. personal blenders then click the Unicorn Smasher app. You will see the top-selling products, revenue, and more: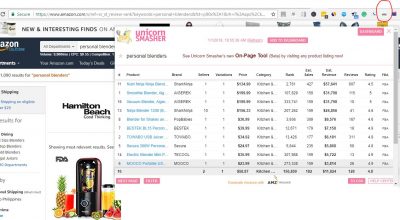 Watchcount.com (Free)
Watchcount shows what people are following at Ebay according to country. Simply type the keyword in the corresponding field as shown below: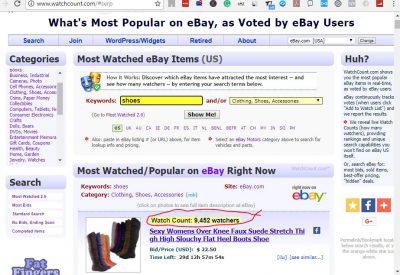 Thieve.co (Free)
Thieve.co is a site that lists the best finds on AliExpress.
These are just some of the FREE tools for niche/product research, and it helps to really research your niche and decide, because choosing a niche is one of the most important steps you will take. Once you have chosen your niche, the next step is to get your domain name (yourstorename.com)
Get Your Domain Name
Choose your domain name and check for availability. My strongest recommendation is to get it from Namecheap. They have the lowest prices around and simple account interface when managing your domain/s. To get your domain, click here.
Once you have an account and have bought your domain, you will need to login to your Namecheap account to connect your domain to your website and this is done after you buy your webhosting, because it is in the webhosting's control panel that your website's data will be stored.
Option To Order A Whole Store
If you have no background in building a store and want to have a professional do it for you, complete with carefully chosen niche and products, you can order a whole store and take away the hassle.


Or if you want to build it yourself, just follow the steps below.
Get Your Alidropship Plugin and Webhosting
The next step now is buying the plugin and the webhosting. Their plugin (Alidropship or Alidropship Woo) is a one-time fee of $89, while their webhosting starts at $48 a year.
A common question from newbies is: what is webhosting?
Webhosting is what keeps your website up and viewable on the internet. It is like your rent of internet space. It is within the webhosting's Control Panel that the website will be created.
There are many webhosting services available, but I suggest when it comes to Alidropship, is to get their webhosting services so that they have access and can address any issue you might have.  To get your plugin and webhosting, click here.
Once you have bought the plugin and the webhosting, they will send you via email the plugins and themes in zip form which you can upload later. But first things first, is connecting your domain with your webhosting.
Connect Your Domain with Webhosting
Once you buy the webhosting from Alidropship,  they will send you 2 nameservers via email. These nameservers will serve to bridge your website in the control panel, and the domain. The nameservers look something like this:
ns29.alidropship.com
ns30.alidropship.com
You need to login to your Namecheap account and copy paste these two nameservers under your domain. When you have logged in to your Namecheap account, look for the domain on the Dashboard, click "Manage" on the right of the domain, and under Nameservers, copy paste the 2 nameservers given: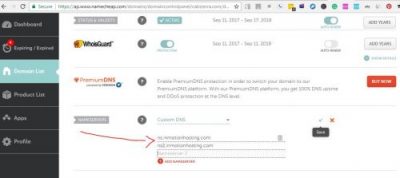 Then click the Checkmark to Save. Your webhost and your domain are now connected.
Once you have done this, send an email to Alidropship that you already connected the domain to their webhosting, and ask them to install WordPress in the Control Panel, the theme, and the plugin.
Since there are 2 types of Alidropship plugins and 5 themes, all of which they sent to you via email, you can always change it after they have made an initial installation.
After they finish installing WordPress, the theme, and the plugin, you can now start building your website. You can also skip all this hassle and order a custom store instead.
Which to Choose: Alidropship or Alidropship Woo
As I mentioned earlier, there are two Alidropship plugins: The basic Alidropship plugin and the Alidropship Woo.
The basic Alidropship plugin is compatible with the Rembrandt, Michaelangelo, and Da Vinci themes any of which is very easy to use and customize. Hence the basic plugin is perfect for those who are starting.
The Alidropship Woo plugin integrates with a WooCommerce theme. It is a more complicated theme compared to the basic ones, but it has more features.  For example, more flexible shipping rates and classes, wish list, to name a few. If you have experience with WooCommerce, I suggest you use this one.
Customize Your Website
In a previous post, I enumerated how to go about customizing your WordPress  (WP) website. Since the themes of Alidropship are all WP-based, you can refer to that post for general site customizations, including the recommended plugins. Then, for the basic themes (Rembrandt, Da Vinci, or Michaelangelo), an added portion is Customization which is actually very intuitive and easy to follow.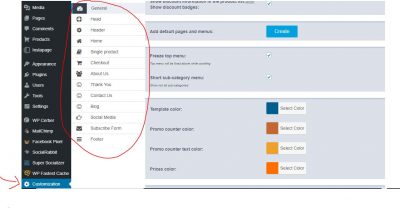 This is for the basic themes. For WooCommerce, I will not discuss here anymore because presumably when you choose the Woo Plugin and theme, you already know your way around WooCommerce quite well.
Strong Tip: Make Your Site Multilingual
Since one of the advantages of dropshipping is being able to sell to many countries, make your site multilingual. The easiest way is to use a Language plugin, GTranslate (by Google of course!)
It has a free version but, as a Search Engine Optimization specialist, I highly recommend the Business or Enterprise Plan, and for very good reasons:
These plans use NLP or Natural Language Programming. It reads like it was translated by a human as compared to the free version wherein the translation may seem awkward.
More importantly, for SEO purposes, the URL translates automatically to the country and language of your site visitor. It will have the hreflang of that country in the URL.
For example, https://mystore.com/en-gb/product-name where en-gb means English-Great Britain. Another is /es-es/ and /es-mx/.  For Spanish-Spain and Spanish-Mexico respectively. This is extremely helpful in ranking for the country that your site is being viewed. Know more about GTranslate here.

Price Formula
You can configure the price formula under Alidropship > Settings > Pricing. Do you want it all  x2? x3? x4? Or any formula for that matter. Simply set the formula you want. Or you can click "Add Recommended".
When you import a product from Aliexpress into your site, the price automatically calculates according to the price formula in your settings. There is already a recommended pricing formula in the basic themes. However you can adjust it too.
In the WooCommerce version, when you go to the Alidropship Woo section, go to Settings>Pricing and then for starters you can click Add Recommended, though you might want to think of your pricing strategy, tapering off the profit margin as the base price goes higher.
Social Media Accounts For Your Store
It goes without saying that, you need to create social media accounts for your business. FB, Twitter, Instagram, and Pinterest, so you can include them on your site.  A lot of advertising and traffic generation come from social media so this step is important.
There will be a separate post for using social media in your business.
Setting Up Your Payment Gateway
For the basic themes, under AliDropship, go to Settings. You need Your Paypal API, Paypal Username, and Paypal Signature.  You can get this by logging in to your Paypal account and go to Seller Preferences.
For the WooCommerce themes, go to WooCommerce>Settings>Checkout>Paypal, and fill out accordingly.
1.Login to your Paypal Premier or Business account and click Seller Preferences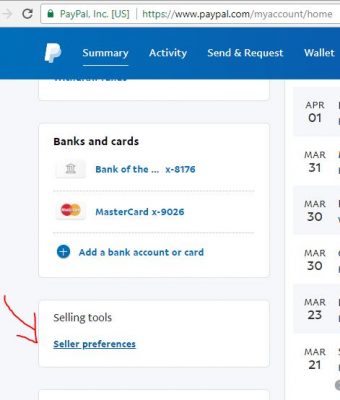 2. Click API -> Update

3.  Click Manage API Credentials
4. Click open each of the "Show"…and..

5. On your website's backend, go to Alidropship > Settings, or for Alidropship Woo, go to WooCommerce > Settings > Checkout > Paypal

6. Put the API Credentials as shown below, and click Save Changes. Now you can accept Paypal,  credit cards, and debit cards. Yay! 🙂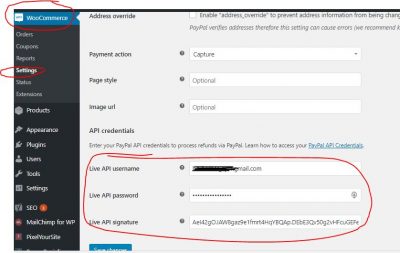 How To Start Getting AliExpress Products on Your Website/Store
Now that you have activated your payment gateway, we can start getting products from AliExpress into your store.
Activate Your Plugin License
When you ordered the plugins, you will receive via email an exclusive LICENSE KEY for the plugin. Copy paste the LICENSE KEY into the Alidropship section of your site's backend.

Once the License is activated, you can now start importing products from AliExpress by following the next steps.
Install the Alidropship app on your Google Chrome Extension
You need this app to be able to import products from Aliexpress to your store. Simply Google for "Alidropship Chrome Extension" and add/install to Chrome.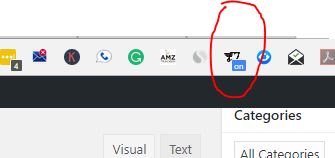 Create Your Product Categories
Importing products right into the proper categories within your store can be done. Hence before importing products, you need to create the product categories.  So go to Products>Product Categories and start creating. For example, in a makeup niche, the following categories could be Lips, Nails, Eyes, Face, Accessories.
Import Products
There are 2 ways I would recommend when getting products: the faster, automated way via the DropshipMe plugin. or the manual way of choosing the products one by one (obviously time-consuming and tedious though)
Done-For-You Finding and Importing Winning Products with DropshipMe
This post previously recommended manually choosing products one by one. You still can do that in the next section.
But what if you can have a plugin that selects the winning, trending products for you, edits the titles and descriptions, and optimizes images as well? Amazing? Definitely!
This is what the DropshipMe plugin does:
Chooses the most trending, winning products
Selects the best suppliers
Edits the Titles and Descriptions for you and written in an SEO-friendly manner
Add products with the highest quality pictures
Removes watermarks and enhances images
I can't just praise this plugin enough. This removes the guesswork and is a huge time- saver too!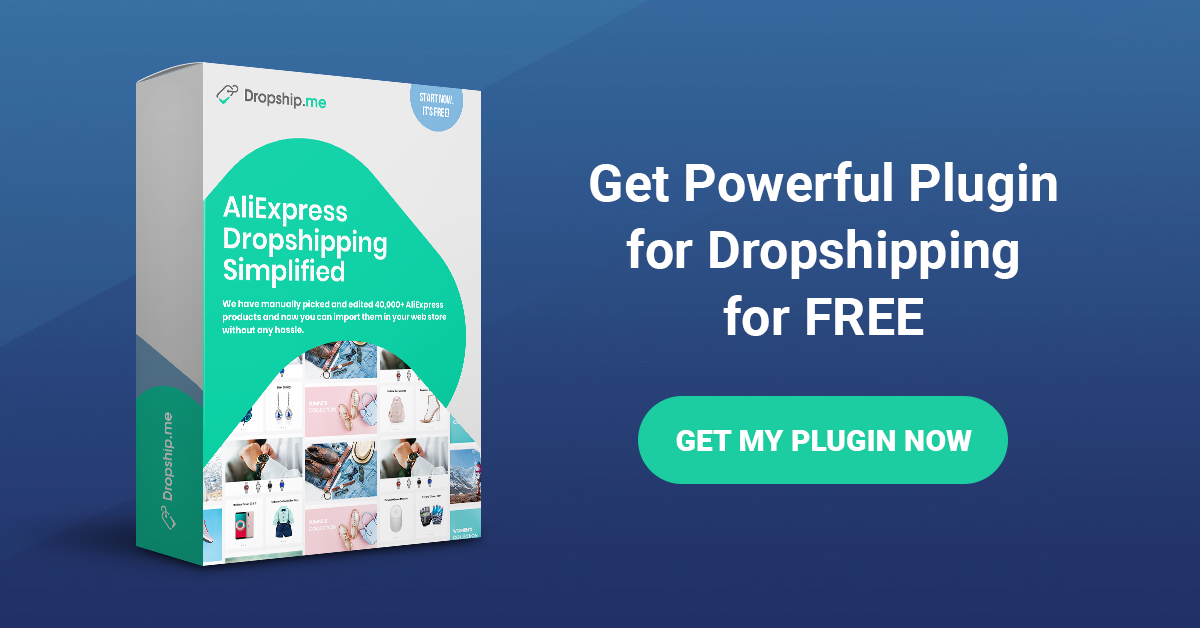 Manual Selection, Importing, and Editing of Product Pages
In the Alidropship Section, you can start importing products either by creating filters or clicking Use Direct Import which directs you to the AliExpress site. I strongly suggest you use the Direct Import instead of using keywords and creating filters. Reason: there are many other filters you can apply when you are directly in the AliExpress site.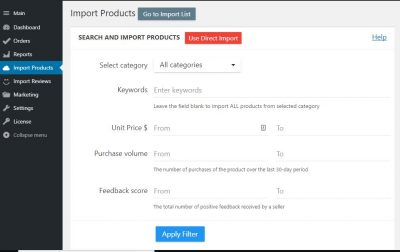 When at the AliExpress site, these are the recommended filters
Free Shipping
4 Stars and up
ePacket shipping
AliExpress Sellers Score (located when you click on each product)
ePacket shipping is an affordable or sometimes free shipping that does not take too long (normally 12-20 days). One of the challenges of dropshipping is the long shipping times, from 20-60 days even more for certain countries. This is one of the main reasons for a customer asking for a refund.
Faster shipping options are also costly, actually costing more than the product itself 99% of the time, so this is out of the question. With ePacket, it provides free or low-cost shipping that only takes a few weeks.
Make sure when you import a product that you are importing into the right category as shown on the upper part of the page.
Strong tip: Do not EVER use Bulk Import
Never ever click the "Import 30 Items" or so. You would want to scrutinize each product, the corresponding description, and the Seller's score, wouldn't you? Choose each product one by one and wisely.
Here you can see I have checked Free Shipping, 4 Stars and Up, and clicked on the upper right gears to set up the country/countries and show only those with ePacket shipping. You can ship worldwide without having to put all the countries on the upper right, putting the US there is just a default setting to show shipping fees.
When you hover over the ePacket bar, you will see if the product has free ePacket shipping or a certain amount. Keep in mind the shipping fee and incorporate it into the total price and declare Free Shipping.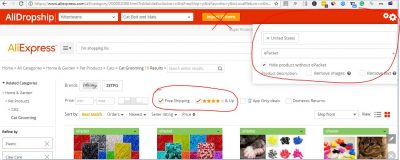 When you click on each item, you will see the Seller's score. You will not see this when you import items by bulk.
Refine Your Product Listing
After you have imported products, go to your Import List and review/refine each product listing for grammar errors, remove too many unnecessary pictures (which can affect your page's loading time), and words that should not be there. Some listings say, dropshipping at Aliexpress allowed, or accepting wholesale, or have products at the cost price – you need to remove those!
You also would want to scroll down at the Product Information at the lower part of the product posting and review the attributes.  You can remove unnecessary information like dropshipping etc.
Also, review the SEO Title and the Meta Description of each product because this is the information that will appear in search engines or when you or any site visitor uses social sharing. You can put this when you have installed Yoast as recommended as one of the important plugins you need to install when you first set up your customizations.
Remember the rules about SEO Titles and Meta Descriptions in the WordPress post? Treat each product listing like a post, with the focus keyword, SEO Title, and Meta Description. Here is the detailed checklist from top to bottom:
Shorten very long product titles
Shorten permalinks to include main keywords only
Check the product's images, avoiding too many, and add/embed keywords on the image by clicking on it, then click the pencil, and add your Alt Text keywords.  Reason? That is the way that Google reads images for indexing too.  Remove images that refer to the main supplier as well, like their shipping rates, their factory images, etc. Bottom line: just maintain images that are enough to sell the product.
On the product's main page, check the descriptions, grammar and spelling errors, or price of the supplier in the descriptions.
Set the SEO Title and the Meta Description of the page. You can easily do this by installing the Yoast plugin.
Scroll down the Product Information: Especially check the Attributes making sure that only the necessary product information is there. If you have set different shipping rates on Woocommerce, check the Shipping part too.  Then click Reviews and add some reviews. As for Variations, if there are certain variations you don't like to include in the product list (for example, a certain design variation), you can remove that too.
Let's go to the Sidebar to the right: (1) make sure the product is in the right category, and note that one product can be in more than one category. (2) add product tags, again using keywords. This will help the website visitor when searching for a product. (3) Featured Image. This is the image that will be shown when the product is shared via Social Media so make sure you have a Featured Image (should have an Alt Text too)
Once you have refined everything, click Publish on the right, just like when making posts.
Make A Test Order Before Promoting
Make a test order, order a product for yourself to make sure everything goes well.
Your First Order – What To Do
When you get an order, you will see it in the backend under Orders and an email notification as well. When you get it, here is what you do:
Click open the new order and you will see complete order details plus a PLACE ORDER AUTOMATICALLY on the upper right. Click that (you must sign in to AliExpress to be able to get to the order page in Aliexpress).
Once you sign in at AliExpress, you will be redirected to the order with a Shipping Address. If the Shipping address that appears is NOT the order in question, click the Select Another Address below until you see the right customer details: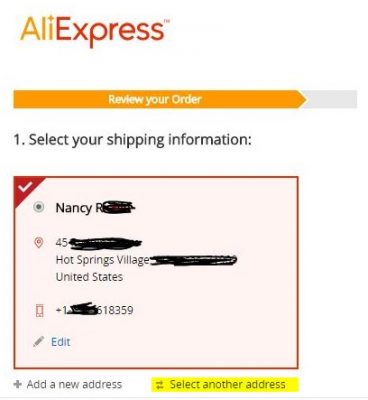 Once you select the right customer, proceed with placing an order. When you get to the product page to order, make sure you choose the right and the best shipping option by clicking on the downward arrow: (Choose ePacket whenever available)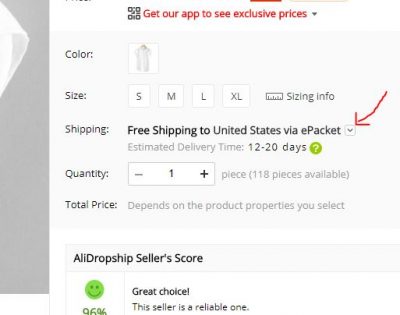 Managing The Long Shipping Times
The main drawback of dropshipping is the long waiting times. This is the single most important reason why customers ask for a refund. These are the recommendations to manage long shipping:
As much as possible, choose a product with ePacket shipping. If it costs a bit more, just mark up your price to incorporate the shipping.
Keep communicating with your customers weekly just to know you are closely monitoring shipping.
Maintain a good relationship with customers. Have customer activities, collect their birthdays whenever possible and greet them. This can be automated via Mailchimp. When you have a good customer relationship, they will be more patient with waiting times.
When they have started to complain, offer a freebie, like a low-cost item in exchange for waiting out a few weeks more.