Instagram is a social photo and video sharing site, and Instagram marketing is one of the easiest and most popular ways to market your business.
With over 1 Billion active users as of January 2021, IG is, therefore, a rich source of customers. Hence, it goes without saying that you need to create an IG account for your store/business.
To break it down by country, here is the IG usage:
USA and India lead Instagram usage with 140 million monthly users each, followed by Brazil. This is useful information when you want to target marketing by country.
What is Instagram Marketing
Instagram Marketing is relatively easier to understand and follow compared to Facebook Ads. For business, it comprises of posting your product's images or videos related to your niche and using hashtags along with the post.
Using Instagram to Promote Your Business
What hashtags are and how it helps your business
Hashtags are keywords wherein you will put the # sign before the word, for e.g. #fashionaccessories, #travels, etc.
You put these hashtags in your post along with the image or video of your product or related images. For example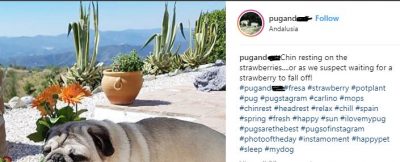 The purpose of Instagram hashtags is to let your post be discovered by others who have a similar interest in your topic.
How to choose your hashtags
Here are the 3 sites where you can get hashtag ideas:
Tagblender :
Instagram Tags
Seekmetrics
Best Time to Post on Instagram App
There are different opinions of the best time to post on the Instagram app.
You can start with scheduling a post between 2am to 5pm. Experiment different posting times and eventually you will need to view your own IG Analytics.
A good tool to analyze this is Iconosquare, although IG has its own analytics as well. It is found on your own IG account's posts.
Instagram Tips
Engage with your followers and those that you follow. Like and comment on their posts.
Post regularly, consistently.
Spy on your competitors. Check their followers and follow them too.
Influencer Marketing
Influencer  from 50,000 to 300,000 or even 400,000 is the sweet spot. More importantly, look at the engagement.  A 5% engagement rate is good for a 50,000 volume of followers, tapering off as the number of followers gets bigger.
Here are the ways and tools to help you with Influencer Marketing:
Influencer Marketing Hub
This site will help you evaluate a potential influencer to pay for a shoutout. You can use these tools to evaluate an influencer:
Here is a general guide from influencermarketinghub.com for engagement rates both on Instagram and Twitter. From there you can have an idea if you want to get in touch with an influencer for a shoutout of your product: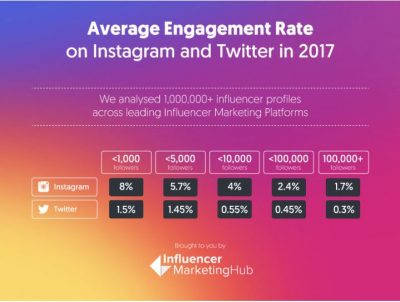 From there, on the same page, you will see this engagement calculator for Instagram, just type in the Instagram Username: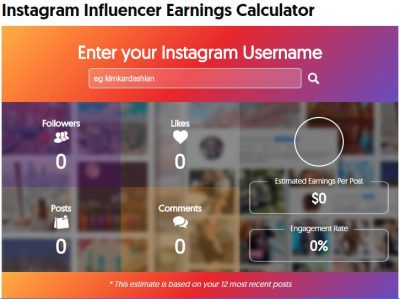 HypeAuditor
First of all, before asking an influencer for a shoutout, you want to make sure it is a good choice. Want to have a deep analysis of an influencer? HypeAuditor is a good analyzer as well.
What does HypeAuditor do? It gives you information such as:
What is his audience type? What is the quality of his followers? Does it consist of influencers too? Do his followers have a high following too?  Real people or suspicious accounts?
Where is his audience from? USA? Canada? UK? India?
What is the age of his followers? Is it in tune with your target market?
What is his engagement rate?
It is indeed very helpful to achieve success in your influencer marketing. Click here to try HypeAuditor. 
Social Blade
It is important to check if one's followers are legitimate (Oh yes you can buy fake followers!). You can check the legitimacy of followers by using Social Blade. Any spike in the number of followers is suspicious and you have to dig deeper.
Google
You can find Instagram accounts on related niches in Google by typing this on the search bar:
site:domain search term
For example site:instagram.com travel
Here you will see accounts related to travel, how many followers, etc. From there you can use the IG influencer Engagement rate mentioned earlier.
The Price and Schedule of Shoutouts
Price varies immensely, sometimes one with under 10,000 followers will agree to an ex-deal like a product. But a recommended guide is under 300,000 an offer of $20 is reasonable.
Sometimes an influencer will start off high and you can negotiate.
Assuming your target is an international audience, the best bang for your buck is a 12-hour shout-out from 9am  to 9pm PST, but best to keep track of your IG analytics too.
The abovementioned steps are the ways you can find influencers.  Direct Message them to negotiate with the shoutout pricing etc. Or you can skip all the steps and find it in one place: ShoutCart.
ShoutCart
A good source to find influencers to do shoutouts is Shoutcart.com.
There you will see the influencer's following, their Shoutcart score, success rate and the rate of their shoutout.
If you are looking for a reliable source of influencers and the important details to determine if you want this influencer for a shoutout, check their profile at Shoutcart.
Use one influencer at a time for a product so you can easily track and trace who is delivering the sales.
Automating Your Instagram Marketing
We all know that videos are far more effective in getting the attention of buyers. But having to create your content, especially video content, then posting constantly can be very time-consuming and expensive!
Later.com has a free plan to help you get started.
What do you think? Is Instagram marketing easily doable? Comment below!