WPForms: The Answer To Your Form Needs
With so many form builders in WordPress.,  I got curious with WPForms because it has got more than 1 Million++ users. So I thought I'd explore it.  And let me tell you why it is the best WordPress contact form and more!
First off, it is super easy to use.  It is truly a drag and drop builder.
Now I love free stuff (well who doesn't?).  I mean, I will try to get away with a free template, free software, free app as much as possible.  You can't make me pay when I can make do with the free version.
So when I pay for something, it must be THAT good.
The Lite Version
To begin with,  this form builder is oh so simple to use. I started with the free version.
Once you install and activate the plugin. you will see several templates to choose for your needs – Simple Contact Form, Request a Quote Form, etc.
Or you can create your own form or edit the standard forms to add more fields: the WPForms free version (Lite) has all these basic fields: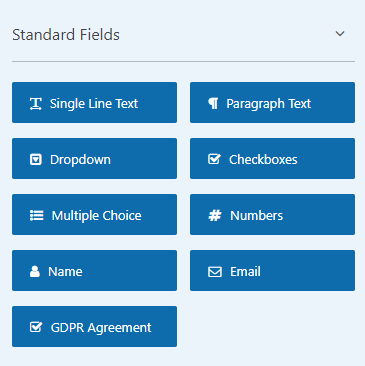 The Advanced Features – Why The Pro Version 
As I said, I love free stuff and so when I bought the Pro Version it means heaps. Here are just a few of the features I love with the Pro Version.
File Upload 
When you are selling personalized stuff, or need any file from your site customers or clients, you would need some file from your customer like images or documents.  You can create forms with file upload feature so your customer can easily upload an image or a document.
Increase Your Optin Subscribers / Mailing List Easily
Optin Forms hardly work anymore, even if you offer freebies or discounts.
Not with WPForms! How?
It integrates with automated mail providers like MailChimp, AWeber, GetResponse.  When you integrate it with any of those, simply add a checkbox on any form you create  – a pre-checked checkbox that says  "Subscribe to Newsletters?" or "Want Freebies and Discounts?" and new subscribers easily get added to your mailing list that way!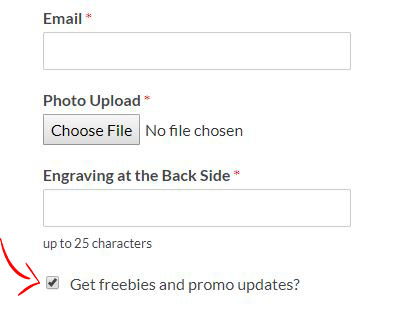 When I started using this feature,  I was floored. I immediately got new subscribers faster than my traditional optin forms!
See the simple checkbox optin in action in this special form here.
Form Abandonment Recovery
Don't lose customers who did not finish filling out the form!
WpForms can still capture abandoned forms so you can follow up with them. This is particularly useful when you have a Request For Quote form or any form for that matter.
Geolocation Tracking
When your website visitor fills out the form or even start to, WPForms can plot the  location and this will give you an idea where most of your website visitors are coming from.
Payment Integration
Yes, you can create Payment Forms that integrate with Paypal or Stripe, so you can easily accept credit card, debit card, and Paypal payment through your forms.
Flexible Pricing with User-Defined Price
A special feature I love is this: I have a client who accepts payments for flight tickets that have no definite price. It is a flight payment form and price of the flights vary from day to day, so I cannot put a fixed price. The good news?
WPForms has got you covered too! In the payment field, you have an option for a user-defined price.
Let's say for today you give them a quote on the flight ticket.
Or maybe you are a service provider with no definite price tag for your services?
Simply ask the customer to put the price as you have both agreed upon earlier. Then the customer can proceed with the online payment.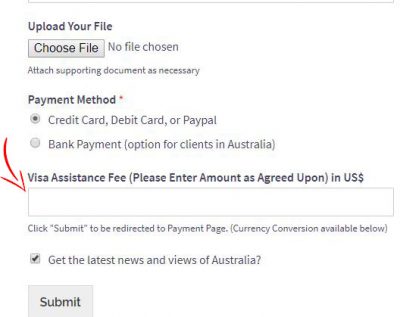 See a payment form with the user-defined price feature in action when the site customer chooses the credit card option.
Post Submission Add On
Do you accept guest posts? No need to give them access to your site's backend. Simply create a form with post submission and you are done!
Other Features To Love
All the data of those who filled out your forms are neatly organized in the backend of your website under WPForms>Entries.
And because you can download the entries list as a csv file, you can use this list for making targeted advertising on Facebook. How?
Let us say you have a baby clothes website and you have some website visitors who opted in your newsletter.
So presumably all those who signed up for your newsletter have common attributes – all moms between 20-35 for example who have expressed interest in baby stuff.
Simply download your entries list in a csv file, upload it onto your business ads manager in FB, and FB will use these data to find other customers with similar attributes to which FB can show your ads.
WPForms – A Lifesaver That Got Me More Clients
Using WPForms has enabled me to get more clients in my website building business. It has wowed my clients that I can create forms for every need. I would say my secret weapon? Definitely.  Check out: WPForms Features & Add-ons.