If you are in business or planning to start one, you should know the single most powerful marketing tool.
So what is it?
Because of fast and easy access to information, millions of people prefer searching online for products, services, and information before making a buying decision.
So there is no greater potential for your business than being easily visible and searchable online – in Google, Bing, Yahoo, etc. As of 2019, Google alone processes 5.6 billion searches per day! See the potential?
With that, you need to make your business easily come up in searches, in front of your customers, and ahead of your competitors.
So hands-down, your website is your single most powerful marketing tool. But not just any website. But a website that is DONE RIGHT, an optimized website.
Why an Optimized Website is the Single Most Powerful Marketing Tool
Yes a website, BUT a big 'DONE RIGHT'; in other words, an OPTIMIZED website:
Why a Website
It is how customers will find you, get leads, and get their undivided attention.
A website works 24/7 to provide information to potential customers and even get you sales even when your physical stores or office are closed.
It can even get you customers from any part of the globe.
Being accessible on any mobile device, your website is portable information ON DEMAND for all potential customers.
It is your permanent display, the online home of your business.
It showcases ALL your products and/or services, thus maximizing your business potential.
A website gives your business more authority and credibility. You can even look as big as the bigger players/competitors.
Its marketing effects are long-term.
You gather your customer database and can develop a relationship with your customers and sell further through email marketing
It is the most cost-effective!
An Optimized Website
Oh yes, it can be easy to build a website. There are lots of website builders available and perhaps you think you can just do it yourself.
There is where the problem lies. I have seen many websites fail and the business owner just gives up the website saying "it does not work".
Building a website is easy, but to make it searchable and rank high in Google, takes real in-depth knowledge and information. If you want to get ahead of your competitors in front of customers, you need to be on the first page of Google.
Having a website is not enough. You have so many competitors and based on studies, the first page of Google gets 90-100% of the customers.
Rank #1 in Google gets forty-two (42%) percent of the clicks, rank #2 gets about 12% of the clicks and down the line on the first page, with rank #10 getting about %3 of the clicks.
Meaning, if you are on the second, third, fourth page and so on of search engines, especially Google, you won't get website traffic, and consequentially, not get customers. In fact, there is a marketing joke that goes: "if you want to hide a dead body, bury it on the second page of Google, because no one looks there anymore!"
The Impact of High Ranking
And what is the impact of ranking on the first page of Google?
Translated into sales potential, here is how it will look like, for the term, promotional gifts:

See the difference of the first rank versus the other ranks in total revenue?
So the conclusion is: while a website is the single most powerful business tool, you need to be able to optimize your website and steadily climb up and make it rank in Google's first page.
And another reason for failure is, once you do have your website, promote it like your life depends on it.
Like anything, it will not work for you if you do not use it. Work to have traffic on your site and as you steadily gain traffic, you will rise in search engine visibility.
Sample Case
(1) Here is a sample website's SEO (Search Engine Optimization) Profile, same domain, the first one not done with SEO techniques: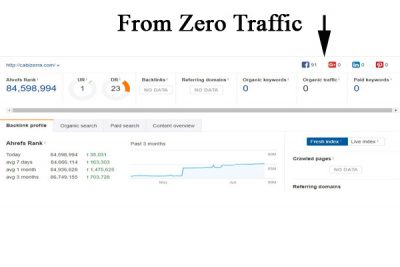 This website existed for eight years with these metrics. After all those years, Zero traffic, zero keywords picked up by search engines, so not expected to rank when Google cannot pick up any keywords for it to index this site for.
—
After the website was revamped, here are the new SEO Metrics:

Here is the same website after the website was revamped with SEO techniques. Google was able to pick up 60 organic keywords, and traffic has greatly improved.
(2) Here is another case sample. The restaurant existed for decades. When their website was revamped and optimized, it saw a 700% increase in website visitors as compared to their old website: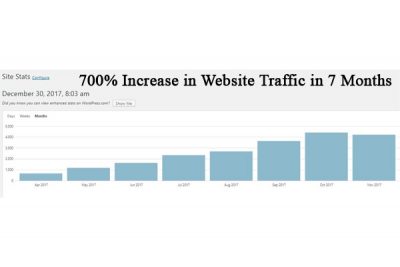 Wouldn't it be nice if you rank on Google organically (not paid ads)? Think of your business on the first page, not needing to spend much on advertising and yet getting all of the clicks in front of potential customers and ahead of competitors?
So how do you get on the first page of Google? How do you come up in searches when people type certain search terms?
Similar to you asking someone, "where is a nice place to take a vacation?" And you get all those recommendations.
Google works the same way. Google ranks websites by way of popularity signals (via website traffic and backlinks) because Google wants to give search results that are popular.
When a Website is "optimized", your business can get popular and highly visible online. Your website gets more traffic. It is 24/7. So it is indeed the single most powerful marketing tool.
So let us talk about examples of a website done right (and done badly too).
Talking about the elements of a website that is optimized is not to overwhelm you, but to show that it takes more than just building a website to make it rank in Google.
Examples
Here are screenshots of 2 businesses as indexed in Google (snippets). I searched for "home contractors los angeles"
This first screenshot is on page 1 of Google. The important keywords are on the Title and Meta Description:

—
This second screenshot, also for the same search term, is on page 3 of Google:
—
Your meta title and meta description will be the places where search engines will first look at for keywords so that they would know about your business and bring you up in search results related to those search terms.
Your entry in search engines, especially in Google (which is being used by 70-80% of internet searchers), is what internet searchers see first and you only have less than 10 seconds to convince whether the reader will click on your entry in Google.
Knowing the Right Keywords
You cannot just guess the keywords to use in every meta title/description, article, webpage, or your entire website for that matter.
You have to know the right keywords to use and compete for. Especially when your site and your domain are new, you cannot just guess a relevant keyword and think it will bring you up easily in searches.
It is more complicated than you think, but using the right keywords is a good start. The right keywords will be those that are high in monthly search but not too many sites are ranking for that term (low competition).
Optimized Images, Videos, and Attachments
Images and Videos engage a website visitor and make the site visitor stay long in your website/webpage. And for Google ranking, this is also important. So you need to optimize your images and videos right.
Compress Images Videos, and Attachments for Page Load Speed
You cannot just upload your images and videos as you have them. If they are large in size, they will cause your site to load slowly and thus may cause a visitor to leave. Page loading speed is an important factor.
Worse, if you keep uploading images and you have reached your hosting's bandwidth limit, your site will go down for sure.
Embed Keywords in Images
You also need to embed keywords into your images, because it is through embedded keywords that Google will know what your image or topic is all about. Google cannot read images as is.
Embedding keywords in images will help you get more traffic because Google will also index your images. Take a look at this:
I typed "best resort in maldives." A lot of searchers will want to go for images so in Google there is a tab that says Images as shown below: (this is where Google indexes the images from your website)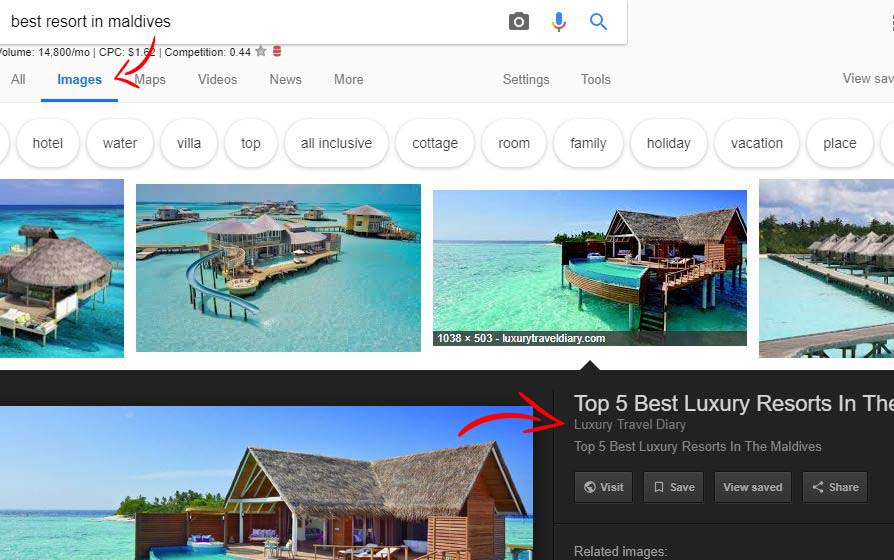 And when I choose and click on an image, it leads to the website of Luxury Travel Diary.
Although Google also indexes an image based on an article, but if you make it easier for Google by embedding keywords in your images, it will be beneficial for your website traffic.
Again when embedding keywords, it needs keyword research. Do not just embed any keyword without keyword research.
User Engagement
In Google, even the website visitor's length of stay on a webpage is measured. So it is important that the website visitor engages with the webpages/website.
Why?
Let's say I typed "Orthodontist in Daly city". I find a dentist's website then I leave the website shortly after I got in. Maybe because I found his number boldly on the upper right of the Homepage so I closed the website and called instead, or did not find what I was looking for.
When one leaves a website shortly after finding it for a particular search term, to Google it means the website visitor did not get the answer in that website for his or her search. This is called a bounce rate, and a bounce rate of 70% or higher can be bad for one's ranking.
There are many ways to engage a website visitor and make him/her longer, such as:
SEO-written content – content written that makes a website visitor read on, and one that is structured well
Images and videos
Internal linking, or linking your web pages to each other.
Creating forms for inquiries such as WPForms or having a chat function on your site instead of just displaying your business number.
A Website vs Other Forms of Marketing
This is not to undermine the power of the other marketing ways, but if you have to choose the single most powerful marketing tool, here is a comparison:
Billboards and Print Materials
Billboards and print materials do help in marketing, of course, but have limited reach, as compared to Google searches; as mentioned earlier, there are 3.5 billion Google searches a day.
While billboards and print materials may be good for lead generation, reaching tens or hundreds of thousands of viewership, we are after the millions of customers searching online every day.
Not to mention that the thousands who do see your billboard are not laser targetted audience. On the other hand, your website being searched through Google guarantees you interested customers already.
And having a website, as I said, is portable, accessible information 24/7. We all see how people are so invested and engaged in their mobile devices.
Website vs Social Media
Presence in Social Media is very important in a business, that is a fact. It is great for lead generation.
However, if you want long-term effects, you cannot rely on posting on Social Media every now and then. Social Media is the here-and-now marketing – you post something and the previous ones are forgotten.
Your business presence should not end with Social Media. Rather, it should just be a complement to having a long-term online presence via a website.
Remember with Social Media, you cannot collect emails either for email marketing, and automate that process.
It is a fact that email marketing is one of the most cost-effective marketing, aside from it facilitates building a relationship with your customers, like an automated birthday greeting.
And email marketing is something you can do with having a website.
Also if you want to rank for certain keywords over your competitors, social media accounts cannot quite cut it as compared to having an optimized website.
If you really want long-term effects, and with the most potential number of customers, your website being able to come up in Google is the way to go, with Social Media generating leads from postings and ads.
About Marketplace and Portals
A Marketplace or Portal is a website wherein businesses of the same nature are in one site to get more exposure.
While such websites have great traffic and may be good for a time, the goal as a business owner is to establish your own identity. This is your brand, your own online visibility, and be able to establish a strong online presence in the long term, to sell ALL your products and services.
Marketplaces seem an attractive option at first because (1) some business owners want the easy way and not bother with having one's own website, or (2) they do not see the value of giving their business its own home or would want to but do not know how to go about it.
Marketplaces may be easy money but, it is like living in an apartment. It is not yours, so you have to follow rules, have limited exposure, and once you move out or opt-out, you lose exposure and online presence.
By confining your business on marketplaces, you are practically giving away the website traffic that supposedly boosts your website. It boosts the marketplace's website instead. (Remember what I mentioned earlier that website traffic is one of the major reasons to rank high in Google?)
| | Website | Marketplace/Portal |
| --- | --- | --- |
| Flexibility | You can do anything you want, sell all your products and services, upload your images, videos, edit and update as you like. | You have limited activities as you do not own the site, cannot sell all your products/services, nor upload everything you want to upload. |
| Competition | You have the customer's attention all to yourself | You are constantly fighting for the attention of the customer, your customers can be stolen by other merchants as well |
| Activity | You can engage with your customers more actively, create customer relationship, conduct email marketing to promote to your optin site visitors. | The customers are the marketplace's database not yours. The email marketing belongs to the marketplace and you have no control over it. |
| Lifespan | When your website is done right, the positive effects on your business are long term. Brand building, etc | Your online visibility is as long as you are part of the portal. |
| Ranking in Search Engines and SEO | You can be flexible with your website to make yourself rank high in Google. The traffic and backlinks on your website are yours. | Your customers are giving the traffic to the marketplace. It grows their business on the long term not yours. You cannot make your business rank in Google for the keywords that you want. |
| Traffic | You have to build it - but once done, its effects are long term | Traffic-ready |
Again if you want long-term effects, an optimized website, of course, requires more effort, but your business will reap fruitful rewards.
So ask yourself: do you want long-term business growth?
A Facebook Page or a Website?
A lot of business owners content themselves with a Facebook page. Here are the reasons why you should not rest your business on just a Facebook page.
1. A Facebook page is not yours. If Facebook shuts your page down, you cannot do anything about it. You have no control over it.
I have seen this a few times: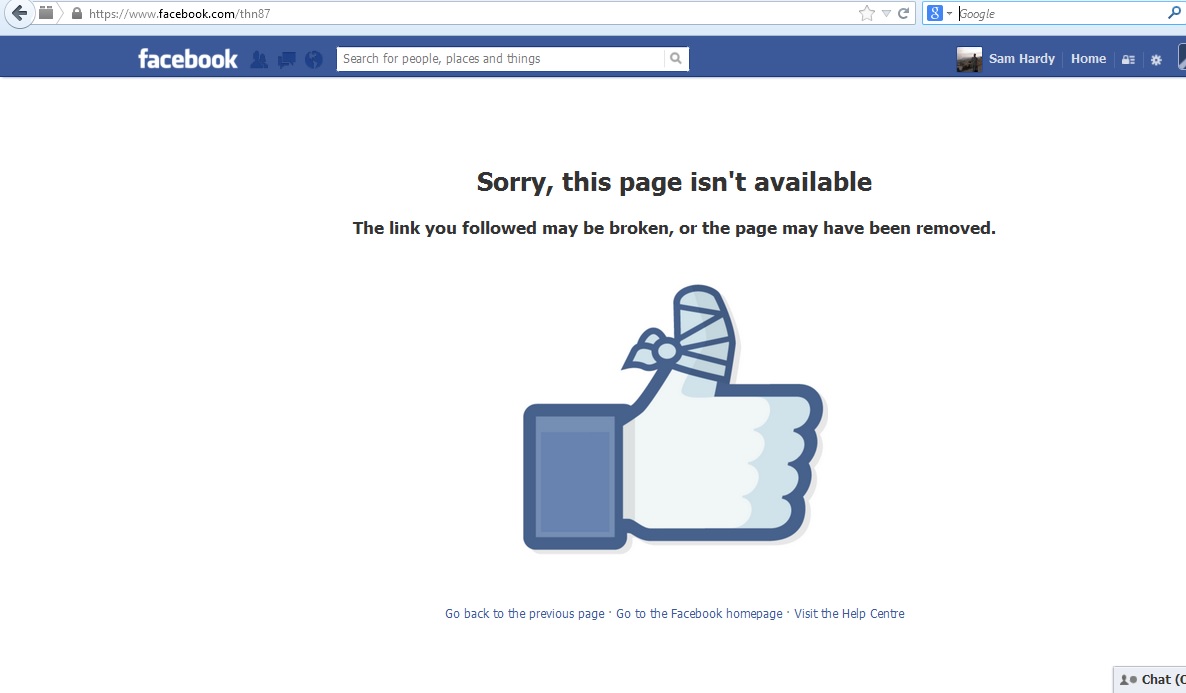 Will you build your business on someone else's property?
In fact, they can even limit the reach of your posts, and they do. And why wouldn't they? FB wants you to advertise of course!
2. You cannot be flexible with Search Engine Optimization with an FB page, which is important for coming up easily in searches.
Remember the meta title or meta description in your website wherein you will put your keywords to improve searchability in Google? You can even rank for as many keywords as you want.
With a Facebook Page, you have no control over the meta title and meta description. Nor can you post articles/content that are search-engine friendly:

3. You are striking out customers who do not have an FB account.
Your business is only visible to those who have an FB account, unlike in Google which is accessible to all.
4. FB is a here-and-now marketing (as with other Social Media). You post something and your previous post is pushed down.
5. With your own website, you have the customer's attention all to yourself.
With an FB page, your customer can easily be distracted. In fact, they will be distracted by YOUR COMPETITORS as FB will also show your competitors on the right side.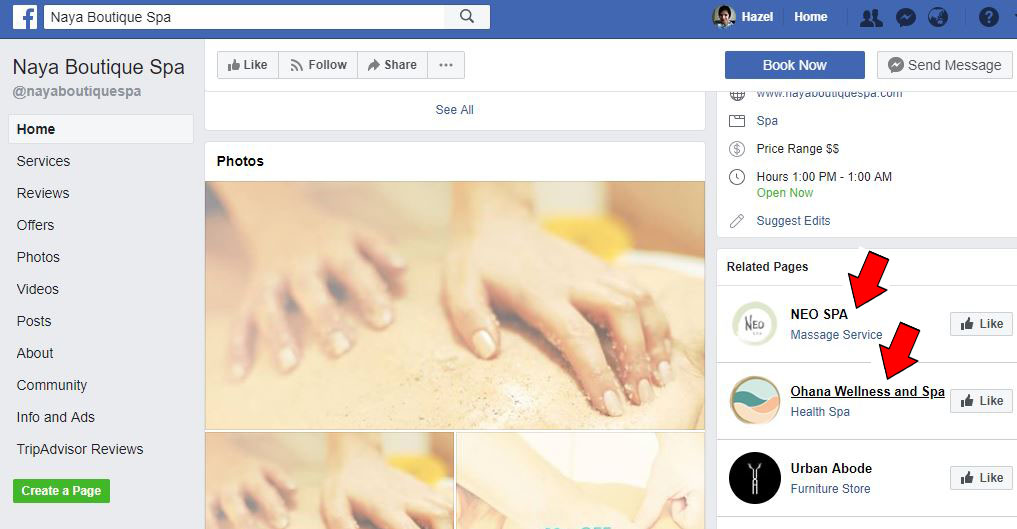 6. With a website, you can be flexible with the design, the content, the pages.
7. Having a good website gives a more professional image + credibility to your business or profession. Those you are transacting with will know that you are serious about business. It builds TRUST.
Not saying that one should ditch FB in favor of having a website. It is best to have both. FB is a marketing tool and a lead generation channel.
Important Points in Conclusion
A website is still your single most powerful marketing tool for business or a profession. Social Media, Billboards and print materials are helpful marketing tools for lead generation.
There is a big difference between a website and an OPTIMIZED website . Do-it-yourself websites or websites without proper and thorough SEO applications will most likely never rank.
Strong visibility and searchability are key. Ranking for high search volume keywords in Google is very important if we want to steadily grow as a business.
No matter how good a website is, while good SEO will help, if you do not promote it, it will not work for you. Keep promoting it so people will get used to your site.
Being in marketplaces or portals will only have short-term, short-lived results. Having one's own well-done website is still the key to long-term online visibility. Remember, WHAT COMES EASY WON'T LAST; WHAT LASTS WON'T COME EASY. I have seen businesses joining marketplaces and folding up eventually. No marketplace can save you for long-term results.
To illustrate my point that a website with the proper SEO is your single most powerful marketing tool, take a look at this graph by Neil Patel on Return on Marketing Spend.
SEO-content marketing lords it over all the other marketing channels: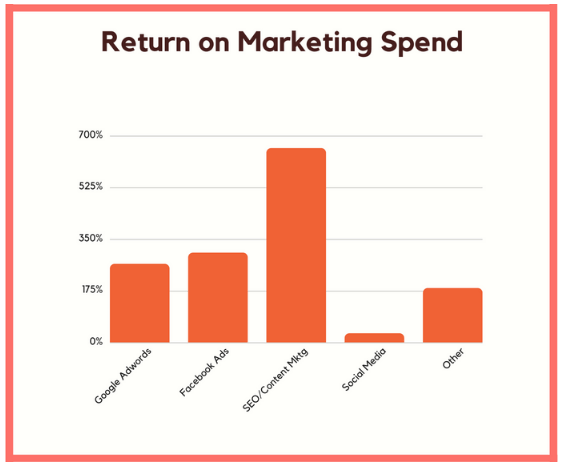 Now That You Know: The Best Part
With all the information here, does it sound overwhelming? Don't be overwhelmed, this article does not intend to do that. This is just to show you that ranking in Google is not a hit or miss. Rather there are clear steps to do it.
The best part is that, with all these technicalities in having a good website, one might think that it is expensive or complicated to have the single most powerful marketing tool for your business – not anymore!
We are advocates of entrepreneurship and empowerment which is why we share all information that we feel will help the most. Feel free to write to us in the contact form below, as there is so much more.