Keyword research is one of the most important tasks of onsite and on-page Search Engine Optimization (SEO).  Before we go any further, what is SEO?
SEO, in simple terms, is how to rank high in search engines, especially Google, for the search terms relevant to your business. If you want your website to be visible, you need to know what will make it rank on the coveted, sought-after, first page of Google.
When we go online to search for something, what we all do is type certain search terms or keywords, right?
Hence, keyword research is very elemental.  You need keyword research in every step of the website/blog building process, from writing articles, embedding keywords into images, to building web pages,  to building your website.
It will even give you an idea of what niche or business to get into because you will discover what people are looking for online.
The objective is to use keyword research tools to find which keywords or search terms are popular in search engines, yet not too many websites use it or are ranking for that particular keyword. In other words, you need to search for keywords that are high in monthly search volume but low in competition.
Learning Keyword Research is, by itself, already an income earner. Companies will pay a keyword researcher to know what keywords to use for their website's content to drive traffic and make them rank high in Google.
So what are the KW research tools out there?  Let me mention some of the popular tools available that you can use for your online business.
A LOOK INTO SOME OF THE KEYWORD RESEARCH TOOLS
FREE KEYWORD TOOLS
There are free keyword tools you can use for a limited time,  you can find them in Neil Patel's site.  However, most of them are either free for a limited time, give limited results. or does not really give accurate numbers but more of a range like Google Keyword Planner (unless you are running an ad in Google).
WMS Everywhere
WMS Everywhere is a free keyword tool that you can install in Google or Firefox.  When the installation is successful, every search term you type will show its Monthly Search Volume – Cost Per Click (CPC) – Competition.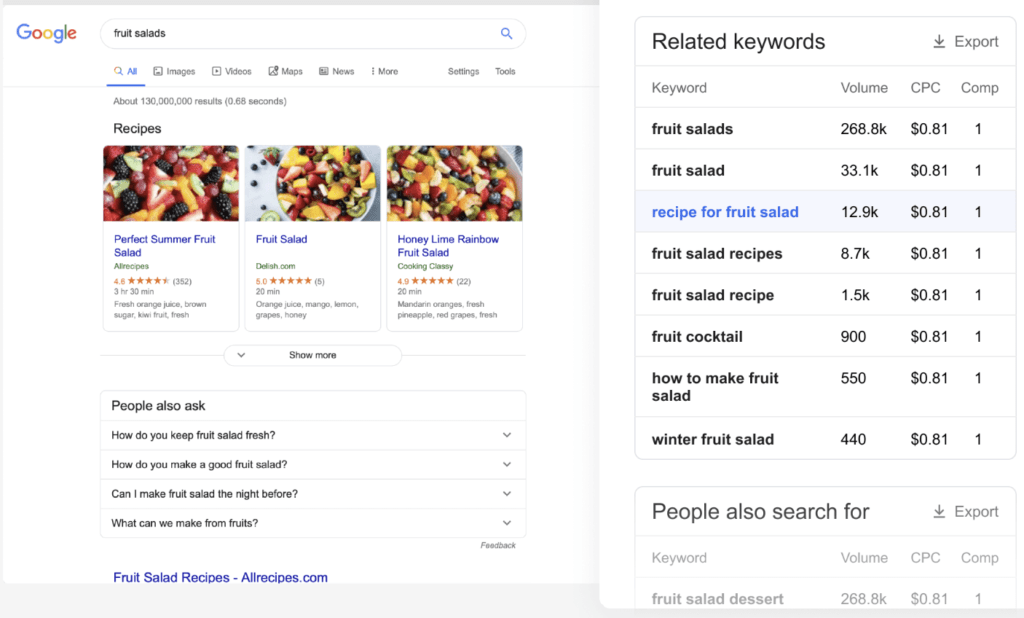 Here you can see that "fruit salads" has a high monthly search volume of 268,800, a Cost Per Click of $0.81 if you will do Google Ads, and a competition difficulty value of 1.00  (Competition is from a value of 0.0 to 1, with 1 being the highest. But take note that this competition is for paid ads. ).
To get WMS Everywhere: Simply go to WMS Everywhere and click  Add to Chrome.
Ubersuggest
Ubersuggest is a freemium tool that will give you an overview of a particular search term, from search volume to cost-per-click, seasonality, and SEO difficulty (for organic search) or PAID Difficulty (for competition in Paid Search).
Ubersuggest also gives the option to make your keywords geo-specific, for example, digital marketing USA will give a different  SEO Difficulty as compared to digital marketing Australia.
You can also put negative keywords to filter out those that are not exactly related to what you have been looking for. (E.g. searching for the term 'depression' – of course, you like to remove The Great Depression of 1929). Check out Ubersuggest.
When you type a keyword or phrase on their main search field, you will also get semantically related keywords or phrases.  It gives the monthly search volume, cost-per-click value, and competitiveness of the keyword, pretty much like the other free tools.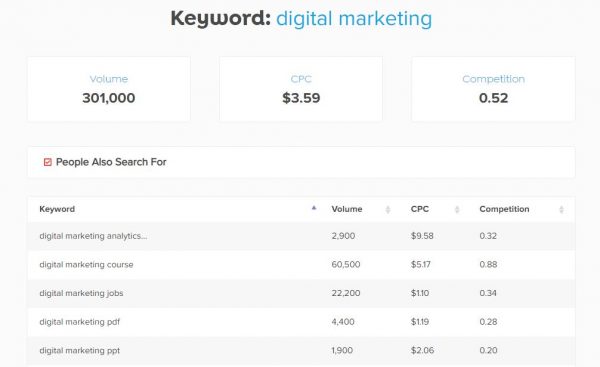 Again the main issue and a common thread with free KW tools is this – the competition value it gives is for PAID search.  Meaning, websites that are paying for ads for a particular keyword. This will not give you an accurate level of competition for ORGANIC search, which is what we actually want to target.
For instance,  search for "resorts" – high volume and low competition. We would think it is a good word to rank organically because of the low competition.
The truth is, it is actually in low competition for paid search. And why not? Who would want to pay for such a broad keyword? No one would want to create paid ads for such a broad term. Hence, the reason for low competition.
Look up that same keyword's level of competition in organic search (which you can only see in paid keyword research tools) and you will see that the level of competition for organic search is extremely high.
PAID KEYWORD TOOLS
This is not an extensive list but it contains the most noteworthy tools and some that I have personally tested.
Ahrefs
Ahrefs is more than just a keyword research tool. Aside from the Keyword Explorer, it has a content explorer, and a site explorer. This makes Ahrefs one of the most valuable tools out there. If I were to choose just three tools (and trust me I have tried a lot!), Ahrefs is one of them. Let us explore why.
Keyword Explorer
With the Keyword Explorer section of Ahrefs, you can get so much keyword information: Volume of a particular KW, Related KWS, and Suggested Terms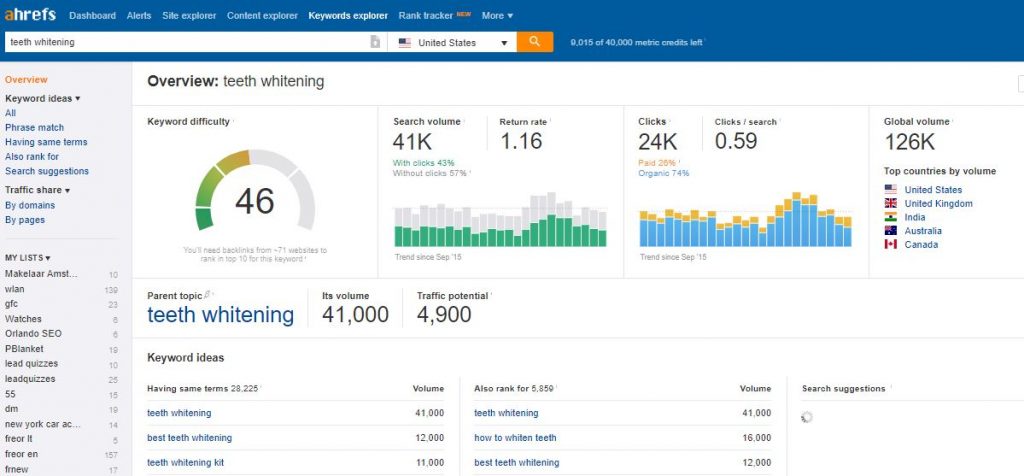 -Keyword Difficulty (on a scale of 0-100, the higher the number the more difficult it is to rank
In this example below, I targetted the similar terms with a Keyword Difficulty (KD) of 0-20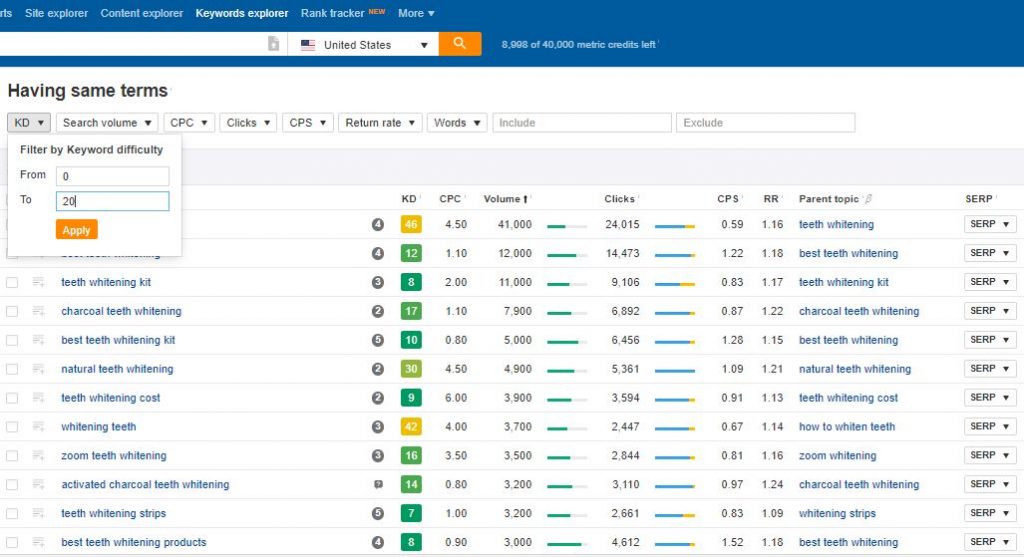 Monthly Search Volume ( let's say you want to filter out those less than 1000 searches a month)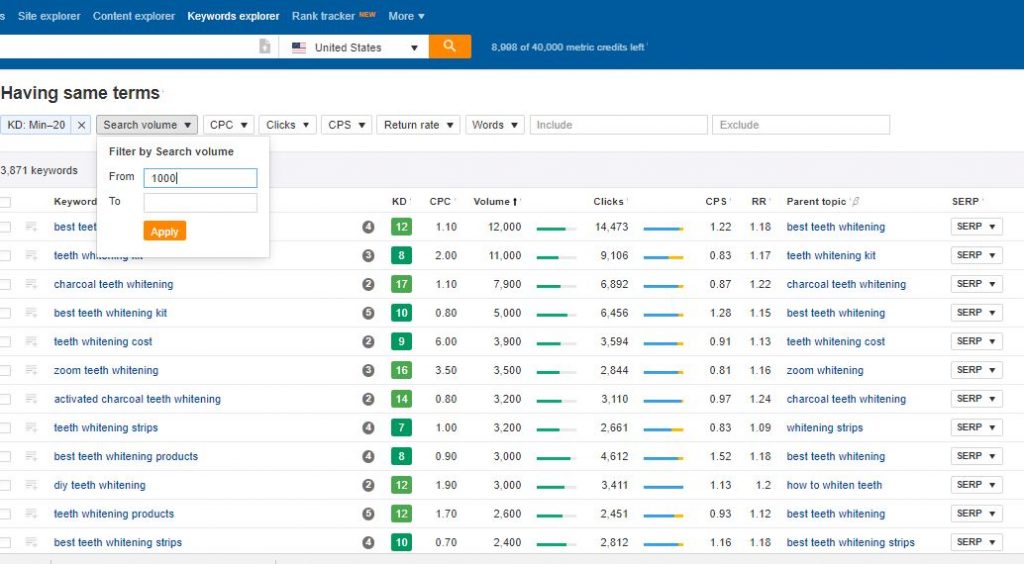 You can even get which sites ranked on top 10 for a particular KW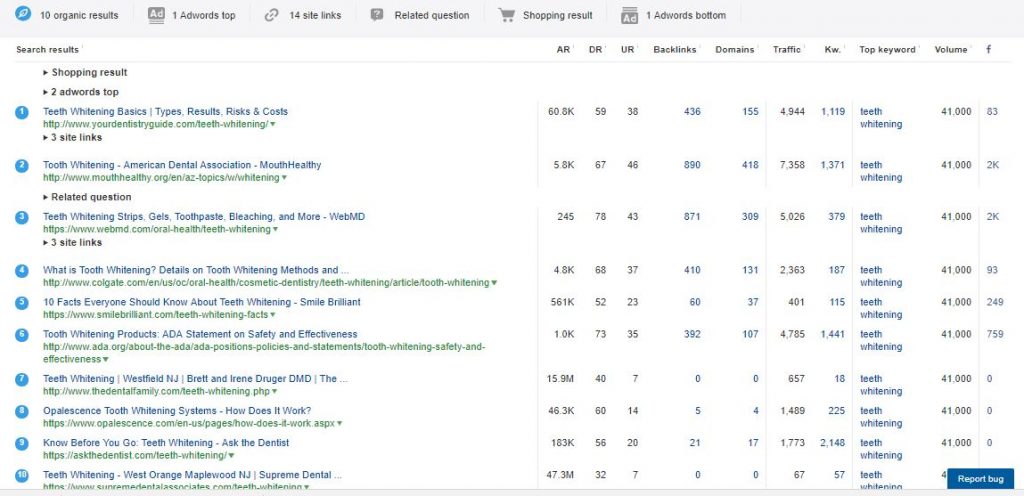 You can also get the KWs that you and competitors are ranking for, as well as how many backlinks you need to land on the first page, or the websites that are linking back to a competitor. In the SEO world, the more websites linking back to you, the higher it will push you in Google)
There is so much more information you can get from Ahrefs, that we will be putting this in a separate post.
Content Explorer
When you want to know what content is popular online for a particular topic, click Content Explorer and type the topic, and it will show popular results especially in Social Media (shares), word count of the topic, referring domains or backlinks (other websites that are mentioning this particular article/content).  As I mentioned previously, there is so much information that one can get, that I will discuss this in a separate post.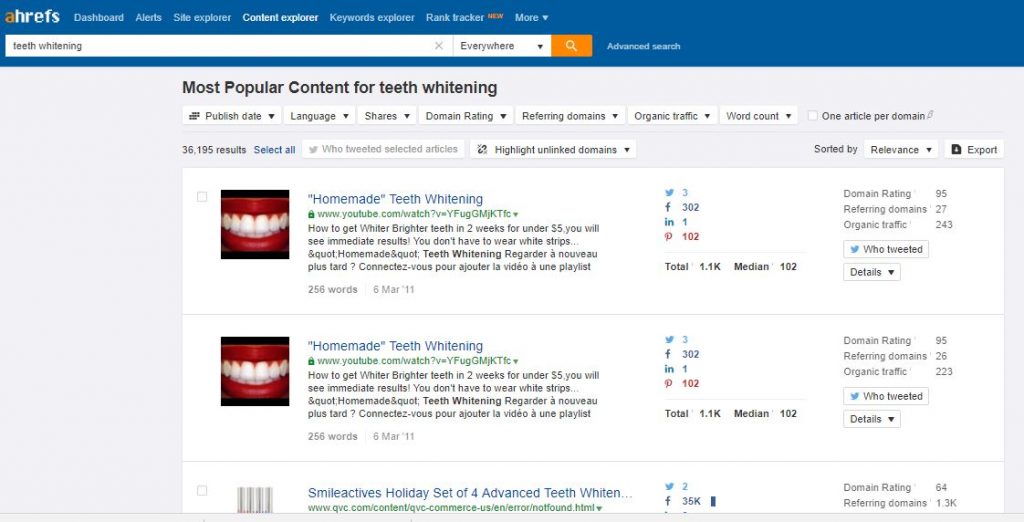 Site Explorer
The Site Explorer Section of Ahrefs will give a detailed analysis of a particular URL. Simply type the URL (It can be just the domain name, for example, https://howtogetstartedonline.com) or a subfolder, or even web pages. By entering any of that, you will get a thorough analysis, like keywords connected to that page, traffic, top content, backlinks, competing domain and pages, domain vs domain analysis.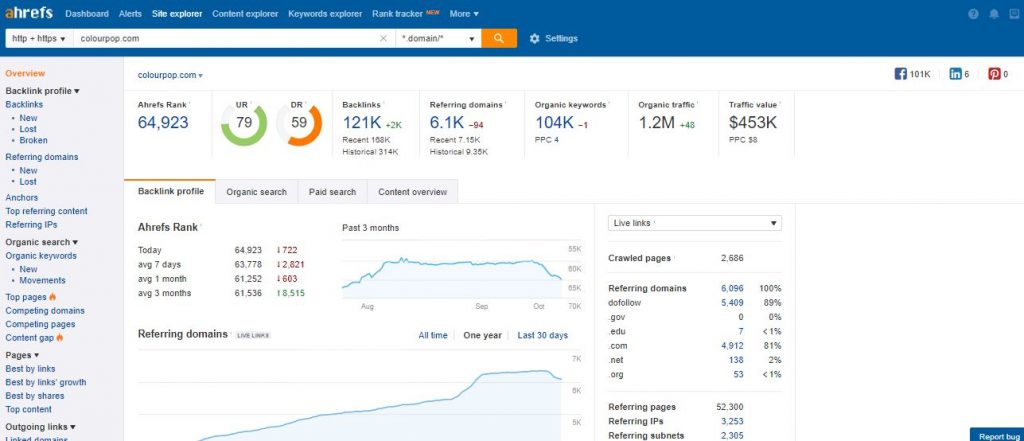 With all that information,  you now can plan your strategy to be on top or at least first page of Google, how you can beat the competition by knowing the keywords to use, how many backlinks you need, among other things.
So if you want a detailed manner to beat the competition, Ahrefs is the way to go. However, if you just want keyword research, there are many other tools out there that can give you just that. One such tool is Long Tail Pro.
2. Semrush
Semrush is another amazing All-In-One SEO tool.
It provides keyword research:
Monthly Search Volume
Keyword difficulty (Organic)
Keyword difficulty (Paid)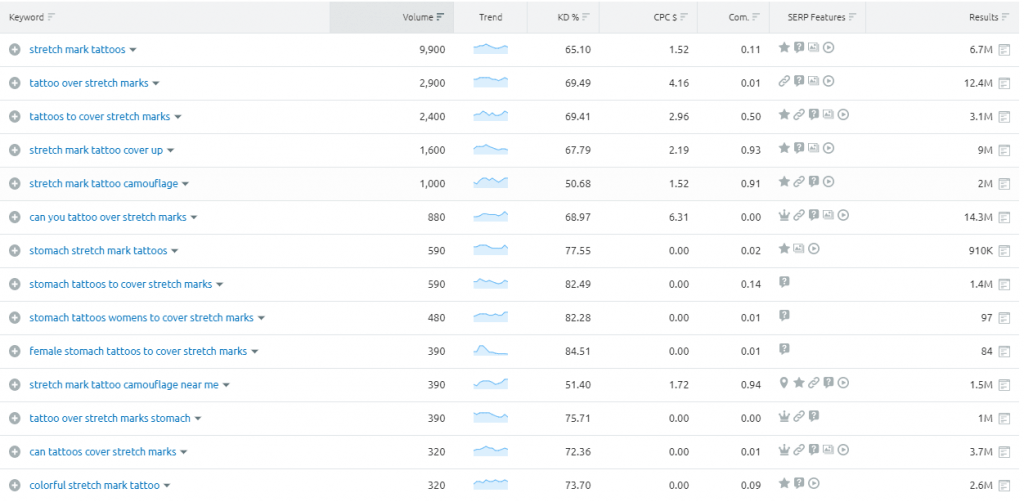 SEO Audit or a complete site analysis for SEO errors and issues such as
thin content
duplicate content
low Text to HTML ratio
missing alt attributes, meta descriptions
backlink check (broken links)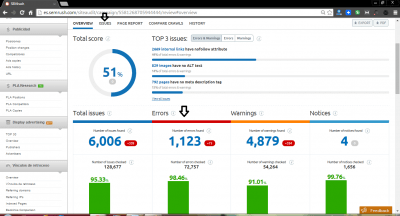 Semrush also does:
domain analysis
competition analysis
domain vs domain analysis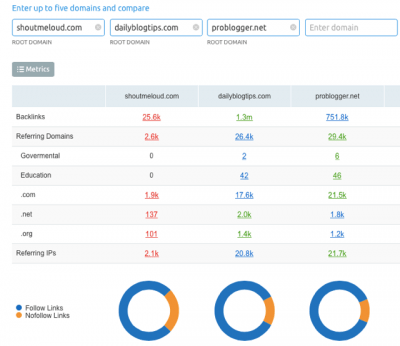 It has a whole lot more information that complete information will be in a future post. It is really for serious SEO practitioners and is the #1 must-have tool of prominent SEO  experts. You can find out more about SEMrush here or click on the banner to try for free.
3. Long Tail Pro
Long Tail Pro will give you a good list of keywords related to the main keyword you type into the field. It will show the volume, the difficulty of Competition, and even Competitor Analysis.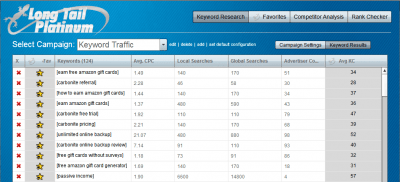 I mentioned Long Tail Pro because it is indeed popular among online business experts. This is ideal if you want a good keyword tool to guide you in writing your articles. Check here for Long Tail Pro
These are just a few of the Keyword Research tools that are popular among online marketers. We shall be adding more Keyword tool analysis in our SEO training page.
After finding the keywords that you need, the next thing to do is use these keywords when writing your article. Let us hop into SEO Writing.